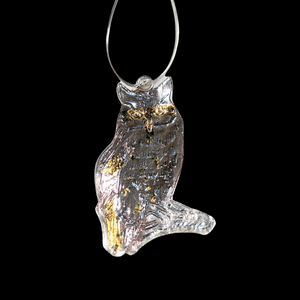 I drew this horned owl then transposed it onto rolled-out silver metal clay. I cut out the outline with a sharp knife. I added in the details onto the clay. After firing in a 1600-degree kiln for 2 hours I had a pure 999 silver owl. I burnished it with 24k gold foil to fuse the two metals, an ancient gilding technique called Keum Boo. I burnished the gold foil over the Owl's eyes like a mask. I painted the owl with patina for accent. The patina added magical blues and greens on the owl's chest. 

"Owl" was one of my favorite characters in Winnie the Pooh when I was a child.

There are so many varieties of owls all of them beautiful and unique. I have created many different versions and enjoy each one of them as do many of the people who purchase them.

I have created a snow owl, barn owl, and an Egyptian owl as seen in hieroglyphics.

People have different connections to owls. Minerva, Athena, and Native American totems are some of these connections. Owls are considered to be wise.

I have friends who have built owl boxes with cameras to encourage them to nest. They are quite fascinating to watch on remote cameras.
Dimensions: I and a half inches X 1 and 1/4 inches. Sterling silver snake chain 18 inches.
PLEASE NOTE: This piece has sold. I am able to create a CUSTOM PIECE if you wish to order this.