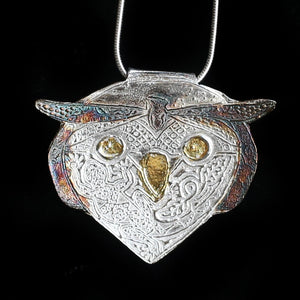 The Owl Face is cut away from an intricately textured stamp which I purchased some time ago. Owls are such beautiful creatures and there are so many stories about them. My favorite Owl story when I was growing up, was the Owl in Winnie the Pooh.
The owl went everywhere with Athena from Greek mythology. It is considered to be a wise creature which I am sure it is. There are over 200 species all over the world. They are hunters of the night eating small mammals. Their plumage is gorgeous.
This Owl face was made using silver clay pressed into the texture and cut with a sharp knife to get the outline. I made a baile above the owl's head. After it was fired in the kiln, I burnished the eyes and beak with 24K Gold foil, a process called Keum boo. I painted part of the owl with patina for accent. The rest was left shiny silver.
An irresistible pendant for owl lovers.
Dimensions: 1 inch long X 1 and 3/4 inches wide. Sterling silver 18 inch snake chain.
PLEASE NOTE: This pendant recently sold. I can create a CUSTOM ORDER for you if you wish to purchase it.