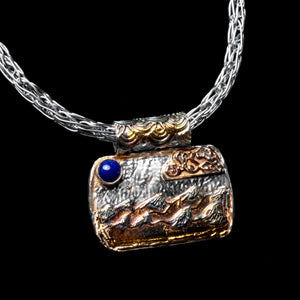 This pendant has a landscape theme. You can see the ocean with waves, clouds in the sky along with flying birds. The metal started out as Pure silver clay which was fired in a kiln. It came out of the kiln as pure 999 silver. I burnished it with 24K Gold foil, then accented it with patina.
The stone is lapis in a scalloped bezel. The baile is very decorative. I made the Viking knit chain by weaving sterling silver wire.
I made this in a class where the focus was learning how to make a landscape and achieve the multidimensional layered look.
Dimensions of the pendant 1 and 1/8 inch X 1 and 7/8 inch.
The handmade chain I made is 24 inches long.
PLEASE NOTE : This pendant just sold. However I can create a custom pendant similar to this one. It will not be identical since I start from scratch for each piece.