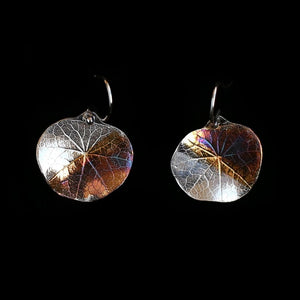 I picked these Nasturtium leaves from my friend's garden. They have such an appealing shape as well as texture that I had to make them into earrings. I pressed the leaves into moist silver clay, cut them out and let them dry. I refined them using a flexible sanding pad and fired them in the kiln.
I burnished the pure 999 silver earrings with 24K Gold foil to fuse the silver and gold, a process called Keum Boo. I then painted them with patina.
I love the way they come out, they are stylish and playful at the same time.
Dimensions : 1 inch X 3/4 inch. Sterling silver ear wires. These can be switched to comfortable sterling silver clip ons for an additional charge.
PLEASE NOTE: This particular pair of earrings just SOLD. I can create a custom pair of earrings on request. Since I make everything from scratch, they may look somewhat different.