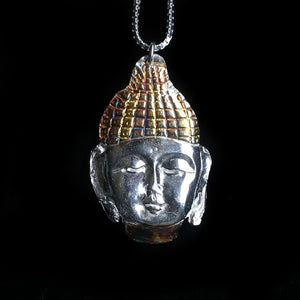 I made a mold out of a beautiful Buddha head and pressed silver clay into it. It was a delicate process since the mold had so much depth. After firing in the kiln I burnished 24K Gold foil on the upper part of the piece, which represents Buddha's hair which he wore coiled on the top of his head. This fusion of metals is called Keum boo. I painted the neck with a little patina to get the copper and green blue colors.
Buddha was born in India to a king and was named Prince Siddharth. He  would have inherited a kingdom and a life of luxury. Instead the poverty, sickness and death he saw as a young man caused him to renounce all this and take up the life of a monk and seeker of truth. His teachings of secularity, equality and simple living spread all over the East. Pilgrims from Japan and China came to hear his teachings and carry them home. Eventually Buddhism spread all over the world.
The pendant gives the wearer a feeling of calm and serenity.
Dimensions :1 and 1/2 inches X 1 inch. 18 inch long sterling silver box chain.