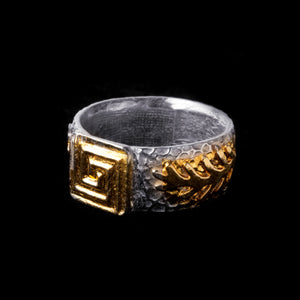 This beautiful ring is pure silver and 24k gold. It is smooth and comfortable to wear. The band has a cobblestone pattern. There is a Square Maze on the upper surface and a delicate leaf pattern on the band. After firing it in the kiln for 2 hours to ensure sintering the Maze and leaves were burnished with 24K Gold foil and the band was painted with patina.
It is a lovely unusual one of a kind ring.
Dimensions: Size 6
Please note, this ring has been purchased by a happy customer. If you'd like, I can make a custom version that would be very similar.