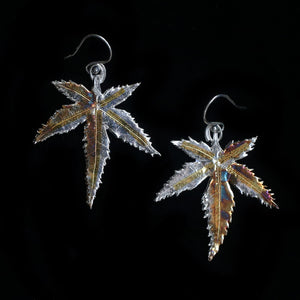 I plucked these leaves from my neighbor's tree and used them as templates to make earrings. I pressed silver clay over the leaves to capture the details. The leaves have a delicate pattern so I had to be careful to cut them with a really sharp knife so I could achieve the definition of the sawtooth edges of the leaves. 
After the pure 999 silver leaves came out of the kiln I burnished the central veins of the leaves with 24K Gold foil a process called Keum Boo. I painted half of the leaves with patina to achieve copper, blue and green colors. The earrings are beautiful and stylish.

Dimensions: 1 and 3/4 inch long and 1 and 1/2 inch wide. Sterling silver ear wires. These can be switched to comfortable sterling silver clip ons at an additional cost.
NOTE: This particular pair of earrings has been purchased by a happy customer. I can recreate this design if you'd like to place a custom order.