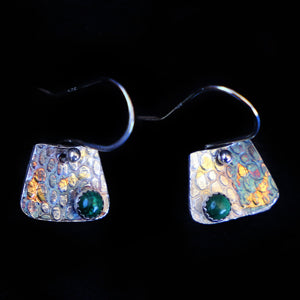 These cute little earrings have a tiny cobblestone texture on an interesting almost square shape. They have a malachite cabochon in a serrated bezel at the lower end.
The texture was pressed into the Precious Metal silver clay and the piece cut out with a special stencil. The bezel was affixed to the dried and refined clay using syringe pure silver clay.
When the pure 999 silver earrings came out of the kiln, 24K Gold foil was burnished onto the surface and patina was painted on for accent.
I love the dark green Malachite which shows off these earrings. The stone was secured into the bezel.
These are very sweet festive earrings, particularly for people who like small earrings.
Dimensions: 1/2 inch X 1/2 inch
Sterling silver ear wires. These can be switched to comfortable sterling silver clip ons for an additional charge.
PLEASE NOTE: These earrings have been purchased by a happy customer. However I can make a custom pair if you wish. Since I make everything from scratch they will not be identical but will be similar. For instance the placement of the gold or color of patina may be slightly different.