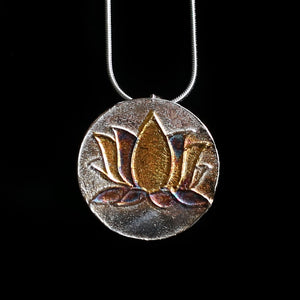 Lotus is a flower that is loved in India for it's beauty, plus the fact that it grows in mud in ponds. It is India's national flower.
It is said to have been Buddha's favorite flower. In Buddhist temples in Thailand we saw fresh lotus buds given in offering. Rich people gave offerings of gilded lotus. Lotus is called Kamal in India. The seeds of the lotus pod are delicious and sweet. 
I created this particular simple pattern by drawing it by hand and making a mold out of it.
I used silver clay to press into the mold. After firing it in a kiln for 2 hours at 1645 degrees, I burnished some of the petals with 24K Gold foil. I painted patina on some of the other petals leaving the rest of the pendant bright silver.
A beautiful and calming pendant to wear on any occasion.
Dimensions: 1 and a 1/4 inch diameter. Sterling silver snake chain 18 inches.
PLEASE NOTE: This pendant has been purchased by a happy customer. I can however recreate it as a Custom order. It will not be identical since I make everything from scratch.