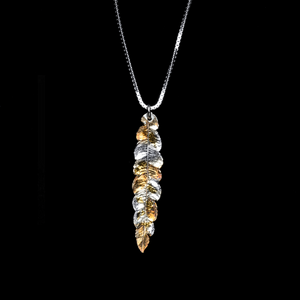 I gathered many of these leaves when I was taking a class in Monterey. They looked so interesting. I painted the leaf with 10 layers of silver paste allowing the leaf to dry completely between each layer. This has to be done gently because at some point the whole coating can crack and fall off. Indeed with some other leaves this has happened and a lot of time and effort comes to naught.
After drying completely it was fired in the kiln for 2 hours. The leaf itself burned off in the kiln leaving a pure silver imprint of the leaf. I burnished parts of the silver leaf with 24K Gold foil and painted a little bit of patina on other parts of the leaf for accent. I am happy with the way it turned out.
It is a very arresting pendant of a real dried leaf.
The last one I made like this was picked for an exhibit in an art show and sold.
Dimensions : 2 inches X almost 1/2 inch. Sterling silver box chain 18 inches.