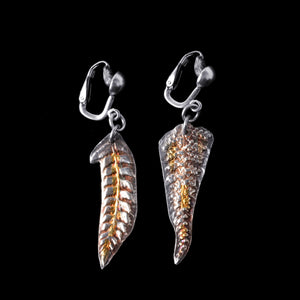 I picked fern leaves and impressed them into moist Precious metal clay. Leaves are never identical but I tried to get them as close as possible. I pressed the upper side of one leaf and the lower side which had spores of the other leaf. The spores gave a very interesting texture to the clay.
After kiln firing I burnished the resultant pure 999 silver leaves with 24K gold foil and painted on patina.
Dimensions: 1 and half inches long X almost 1/2 inch across. These are comfortable sterling silver clip ons. These can be switched to sterling silver ear wires with a silver ball instead.