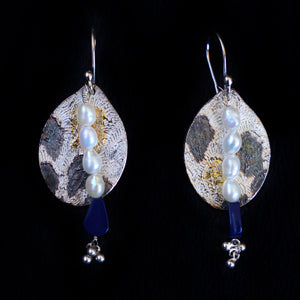 I used a peacock feather texture for the background of this pair of earrings. The medium used was Precious Metal silver clay. After pressing the texture into the clay, I cut out a teardrop shape with a stencil. 
When the pure silver 999 earrings came out out of the kiln I burnished a couple of the peacock feathers with 24K gold foil and painted patina on a few other feathers for contrast.
For an additional accent I added a dangle of pearls, a lapis bead and tiny silver beads at the bottom.
These earrings are unique, stylish and one of a kind.
Dimensions: 1 and 1/2 inch X 3/4 inch
Sterling silver ear wires. These can be switched to comfortable sterling silver clip ons for an additional charge.  
PLEASE NOTE : This pair of earrings has been purchased by a happy customer. However I can create a similar Custom order if you wish. It will not look identical since each piece is created from scratch. For instance the placement of the gold and patina might be somewhat different.