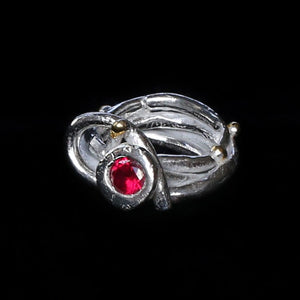 This ring was formed using the Red Hessonite Garnet as the central point. Coils of silver clay were wrapped around a mandrel to surround the garnet and give the ring shape. Silver balls were added for embellishment.
After firing in the kiln for 2 hours the silver balls were burnished with 24K Gold foil, a process called Keum boo.
This is a pinky ring for a petite finger. It is delightfully cheerful, smooth and comfortable.
Dimensions : Size 4