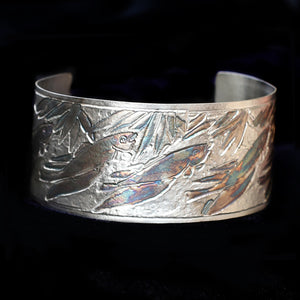 Etching is a fun but time consuming process. You start out with sheet silver. You choose your pattern, in this case from my Japanese design book, and print it on special paper. You burnish the design onto the heated metal and then peel off the paper. The silver sheet is then floated on an acid bath. The exposed metal gets etched with the selected pattern. After you have achieved a deep enough etch the silver is neutralized and the blue design is scrubbed off with a solvent.
I cut the piece out of the sheet metal with a jeweler's saw. I filed and then smoothed all sides with sandpaper. The sterling silver was polished then painted with patina to make the pattern stand out with blues and greens. The strip of silver was formed on a bracelet mandrel and hammered into place.
Koi leaping in the rushes are a lovely sight in this Japanese design.
Dimensions: 6 inches X 1 and 1/4 inch. It is an open-ended cuff. It would fit anyone. It is a Unisex cuff.
PLEASE NOTE: This cuff has been purchased by a happy customer. I can recreate one at my next etching session as a custom piece.