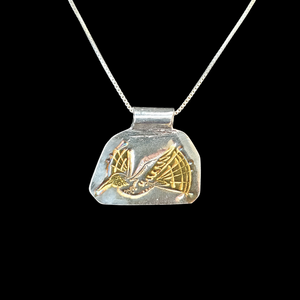 Hummingbirds are such beautiful creatures. The long beak which dives into flowers to suck up nectar, the furious flapping of the wings which allows it to stay suspended in the air and the jeweled colors are a wonder to behold. 
I was very honored once to hold a hummingbird in the palm of my hand. It had stunned itself by banging into a glass window. I held in my open palm for a few minutes while it recovered. Then it flew away. So cool and breathtaking.
I have a stamp of a bird in flight which I used to make the impression in silver clay. I left the background plain and created a baile. When it came out of the kiln it was 999 pure silver. I burnished 24K Gold foil on the wings and body. This process is called Keum Boo. I painted on a little patina for definition. 
This is a sweet little pendant for anyone who loves the jeweled nectar sipping bird we prize in our gardens.
Dimensions : 1" X 1 and 1/4 inch. Sterling silver box chain 16 ".
This is currently at a Gallery but I can check if it is still available.