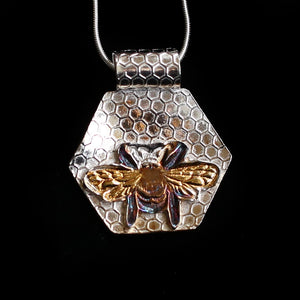 This bee pendant was made using silver clay and a bee form I have.  The honeycomb texture in the background is from a plate I etched some time back. I made a lovely baile using the same honeycomb texture to suspend the pendant on a chain. It is 999 pure silver burnished with 24K gold foil, a process called Keum Boo. Patina is painted on for accent.
I love honeybees and worry about our world without honeybees. So many hives have died due to pesticides and viruses. We need these little guys to fertilize our flowers. Honey of course is delicious, but for the good of our planet and ecosystem we must have plenty of healthy bees.
Dimensions: 1 inch X 1 and 1/4 inch X 2/16th inch. 16 inch snake chain.

PLEASE NOTE: This pendant sold recently. If you wish to place a CUSTOM ORDER I can create one for you.