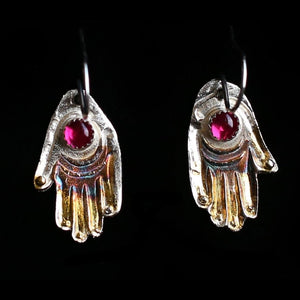 I have made Hamza earrings in a variety of ways. I have etched them and engraved them on sterling silver. Sometimes I have painted them with patina other times not.
I have made them using pure 999 silver and burnished them with 24K gold foil. I have added lapis cabochons on the palm because it reminds me of the Hamza pendants I saw in Turkey made from glass.
This time I wanted to try something different so I put a ruby cabochon on the palm. 
Hamza or Hamesh or the Hand of Fatima is recognized in the East as protection from evil. It also represents femininity. 
I trust the earrings will protect the person who wears them and bring them confidence and joy.
Dimensions 1 and 1/4 inch from the top of the ear wire by 1/2 inch width
Sterling silver ear wires. These can be switched to comfortable sterling silver clip ons for an additional charge.
PLEASE NOTE this specific pair o
f earrings has gone to a happy buyer. However, I can create a similar one if you would like to place a Custom order. It might look a little different since I start from scratch with each piece. For instance the gold and patina may be in a different location.