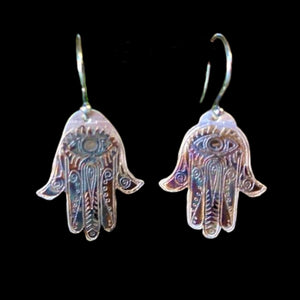 This Hamza pattern was etched onto Sterling silver and fashioned into earrings. 
Etching is a fun but time consuming process. You start out with sheet silver. You choose your pattern, and print it on special blue Press and Peel paper. You burnish the design on to the heated metal and then peel off the paper. The silver sheet is then floated on an acid bath. The exposed metal gets etched with the selected pattern. The silver is neutralized in a bath and the special blue paper for the design is scrubbed off with a solvent.
I cut out the earrings from the silver sheet using a jewelers saw. I filed and smoothed the edges. I then painted patina onto the etched surface to accentuate the design.
Hamza or Hamesh is a symbol of protection from evil in many communities around the world, particularly in the East. These are well known in India, Israel, Turkey, the Middle East.
In India these are called the Hands of Fatima.
Dimensions: 1 and 1/2 inch X 1 inch.
Sterling silver ear wires. These can be switched to comfortable sterling silver clip ons for an additional charge. 
PLEASE NOTE: This pair of earrings has sold. However I can create a CUSTOM ORDER if you wish to purchase them.