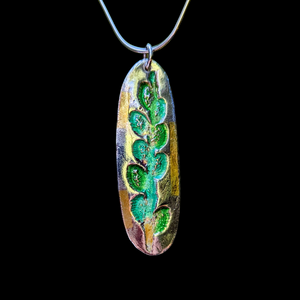 I made this pendant in a class using the teacher's green leaf sprig stamp. The aim was to learn how to craft enamel on 999 pure silver. The pattern chosen needed to have hollows or cells in it to accommodate the enamel. 
Silver metal clay was rolled out thick enough to take the imprint without tearing the clay. It was fired in a kiln at 1645 degrees for 2 hours. What came out of the kiln was a pure 999 silver piece with the imprint of the leaf sprig.
Green enamel was then painted into the leaf hollows. With each additional color, the piece was fired in a 1500-degree kiln for 2-3 minutes. This gave the leaf its shading. The perimeter was burnished with 24k gold foil, a gilding process called Keum Boo.
This lovely pendant is a constant reminder of spring, no matter the season.

Dimensions: 1.75 inches X 0.5 inches. 16-inch sterling silver snake chain.