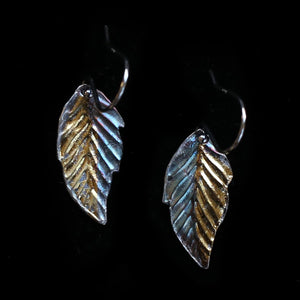 When in Greece, at the Parthenon, I purchased a diadem from a young woman, who was wearing it in her hair like a laurel wreath. I wanted to make something similar when I got back home.
I started out with making earrings, using the diadem leaves as an example. I pressed moist silver clay into the leaf pattern and cut out the shape. After kiln firing them I burnished 24K Gold foil on half the 999 Pure silver leaf. I painted patina on the other half.
I will attempt the full laurel wreath at another time.
Dimensions : 1/2 inch X 3/4 inch. Sterling silver ear wires. These can be exchanged for comfortable sterling silver clip ons for an additional charge.
PLEASE NOTE: This pair of earrings have been purchased by a happy customer. However I can create a Custom pair. They will look similar but not identical since I make everything from scratch. For instance the position of the gold and patina may be slightly different.