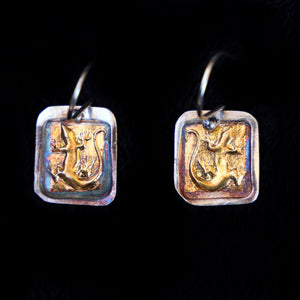 Silver Gecko Earrings Burnished With Gold Foil

Geckos and lizards are similar. Geckos are smaller, and in the tropics, like in Hawaii, they have lovely colors, often a bright green.

I made these gecko earrings by pressing the design into silver metal clay. I cut the clay to frame around the geckos. After kiln-firing, the result was 999 pure silver. I burnished them with 24k gold using an ancient Keum-Boo gilding technique. I left the frame around the geckos silver. They were then painted delicately with patina to add beautiful blue and purple color accents. These colors do change with the light, picking up other reflective tones.
I love picking up garden lizards for a few minutes when I can to admire them. I was afraid of geckos when I was a child in India. They would dart out from behind the photo frames on the wall to snap up flies. I realized when I grew older that they were great scavengers of insects particularly flies and kept the population down, which made me appreciate them.

These are small earrings, perfect for lizard and gecko lovers.

Dimensions 1/2 inch x 1/2 inch.

Sterling silver ear wires. These can be switched to comfortable sterling silver clip ons for an additional charge.
PLEASE NOTE: These just sold. I can create a CUSTOM PAIR if you would like to purchase