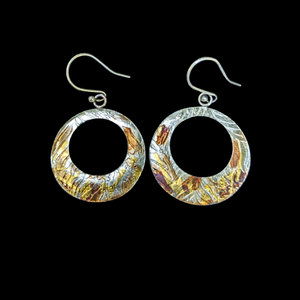 These Earrings are Pure 999 Silver, burnished with 24K Gold foil, and accentuated with patina. 

The textured background with the Silver/ Gold/ Patina combination reminds me of Autumn leaves.
These were made using silver clay and kiln fired for 2 hours at 1645 degrees. The Gold Foil was fused with the heated silver earrings at 700 degrees using a gilding technique called Keum Boo.
Hoops are elegant, youthful, trendy and light.

Dimensions: 1 and 1/8 inch in circumference.
The sterling silver ear wires are shepherd crook style with a jump ring soldered on the upper part of the hoop. These can be changed to comfortable sterling silver clip ons at an additional charge.

NOTE: This particular pair of earrings has been purchased by a happy customer. I can recreate this design if you'd like to place a custom order.