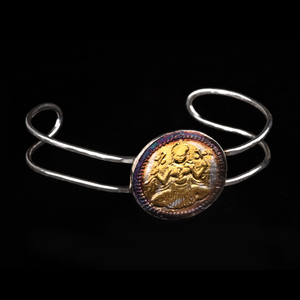 I took the impression of the Goddess from an embossed handmade Indian paper card. I pressed it into moist silver metal clay. I fired the refined medallion in the kiln and then burnished the inner circle with 24K gold foil. I painted the outer rim with patina and got these amazing purples and blues. 
Before burnishing with gold and painting with patina I had already soldered the medallion onto the bracelet which I made out of beaten sterling silver wire. The bracelet is light, comfortable, and quite eye catching. I hope the wearer feels protected by the Goddess!
Dimensions: Almost 6 inches. The medallion is 1 inch in diameter.