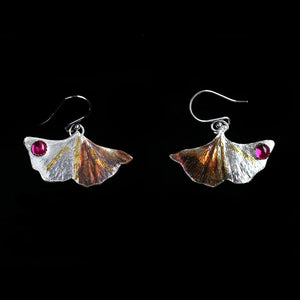 I still gather a few Ginkgo leaves in season, occasionally from outside the County Mental health office, though I retired in 2017. I love the appearance and texture of the leaves. The ones which flare out at the lower end, and are scalloped, are favorites.
I press the leaf into moist silver metal clay to get the best texture. In this case I affixed a bezel on the outer edge of the clay leaf and created a baile for the ear wire. After kiln firing for 2 hours, what emerged were pure 999 Silver earrings. I burnished 24K gold foil onto the silver. The fusion is called Keum Boo. I painted on patina. The ruby cabochons were tapped into the bezels. Sterling silver ear wires were added.
Dimensions : 1 and 1/2 inch X 3/4 inch. Sterling silver ear wires. These can be switched to comfortable sterling silver clip ons for an additional charge.
PLEASE NOTE : These earrings were just purchased by a happy customer. However I can create a custom pair for you. Every piece is made from scratch so they may look somewhat different.