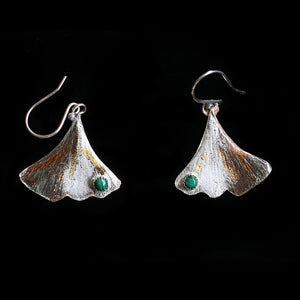 I love the shape and texture of Ginkgo leaves. When I used to work at the County Mental Health clinic  there were trees growing outside our door. I would gather leaves to use in my jewelry. Now when I run out, I go back to the clinic to gather fresh leaves.
There are so many types of leaves. My favorites have a scalloped lower border and flare out. I press the leaf into moist silver clay to get the best texture impression. When dry, in this case, I affixed a bezel cup with silver syringe clay on each dried clay earring. I created a baile for the tip so I could insert an ear wire.
After firing in the kiln I burnished 24K Gold foil on part of the earring to fuse silver and gold, a process called Keum Boo. I painted patina on. I then tapped the Malachite cabochon into the bezel and added the earwires.
Dimensions : 1 and 1/4 inch X 1 inch. Sterling silver ear wires. These can be switched to comfortable sterling silver clip ons for an additional charge.
PLEASE NOTE : This pair has been purchased by a happy customer. However I can create a custom pair once Ginkgo leaves have grown to the necessary size. They will not be exactly the same, since leaves are not identical. I make everything from scratch so the location of the gold and patina may be slightly different.