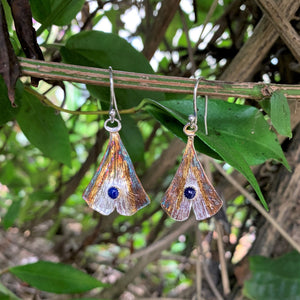 Ginkgo Leaf Earrings With Blue Lapis
Ginkgo leaves have such elegant texture and shape. The tree has an immense ability to survive. There are trees in Hiroshima which lost their leaves after the bomb blast but grew back and are now all specially named.
I had Ginkgo trees outside my office before I retired and return there to pluck fresh leaves for my jewelry which I have done for years. In autumn and winter the trees drop their leaves so I make sure to go there in August to pluck some.
Here is one of my latest creations from Ginkgo leaves. They come in all shapes and sizes. I picked these because they were small, young and had a nice central cleft.
They are made using silver clay so the base is pure 999 silver.
I burnished some 24K Gold foil on Keum style and painted on patina for accent. As a final step I added Blue Lapis stone as an adornment. 
Dimensions: 1 and 1/4 inch long X 3/4 inch across. Sterling silver ear wires. The ear wires can be changed to comfortable sterling silver clip ons for an additional charge.
PLEASE NOTE: This pair of earrings were just purchased by a happy customer. However I can make a custom pair for you. These will be similar but not identical because I make everything by hand.