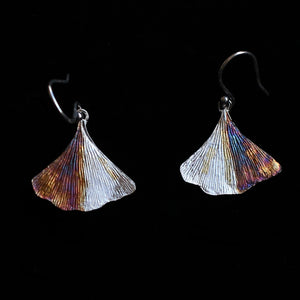 There were 3 Ginkgo trees outside my office. I loved the texture of the leaves and have made several pairs of earrings over the years and sold them. It was always easy to collect a handful of different shapes of leaves and have a variety of earrings. They lend themselves so well to silver clay imprints. 
This pair has beautiful texture and a scalloped border. The pure 999 silver was burnished with 24K Gold foil to fuse the silver and gold. This process is called Keum Boo. I painted the earrings with patina to get the lovely copper and purple colors.
These are beautiful on anyone. They are petite and playful.
Dimensions : 3/4 inch long 1 inch wide. Sterling silver ear wires. The ear wires can be switched to comfortable sterling silver clip ons for an additional charge.