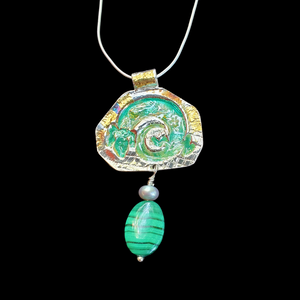 I textured some silver clay then pressed a gecko stamp into it while the clay was still moist. After the clay dried the edges were smoothed and refined using a flexible sanding pad. I attached a Baile. It was fired in a kiln for 2 hours at 1645 degrees F. What came out of the kiln was pure 999 silver.
I decided to enamel the shape of the gecko using transparent enamel in shades of green so you can still see the silver through the enamel.
I burnished the edges and the Baile with 24K gold foil to fuse with the pure silver. This gave it added contrast along with a little patina.
I added a dangle of a malachite bead and a pearl to match the green gecko and the silver.
Dimensions : 2" X 1 ". 18 " Sterling silver snake chain