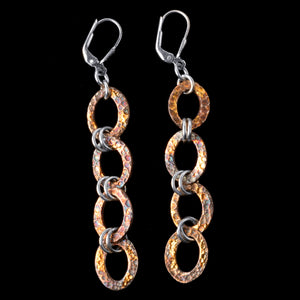 These earrings are dangly and lovely. People who have purchased them before love them and wear them frequently. They are youthful and charming.
When I make a new pair some things change, others stay the same. I use a simple texture on either side of the Precious metal silver clay. I cut out the oval hoops using two metal cutters one inside the other. After the drying the hoops are refined and fired in the kiln.
Burnishing these with gold is tricky because the gold foil has to be cut really fine. The final step is to paint with patina, which gets me my favorite gold, copper, blue and green colors. I put two jump rings to link each hoop to the next one for safety and stability.
I use lever backs instead of ear wires. For this pair I made 4 hoops. Sometimes I make 3 hoops.
Dimensions : 2 and 1/2 inches X almost 1/2 inch. Sterling silver Lever backs. These can be switched to comfortable sterling silver clip ons for an additional charge.  
PLEASE NOTE: This pair has been purchased by a happy customer. However I can make a Custom pair for you if you wish. Since I make everything from scratch it will look slightly different.