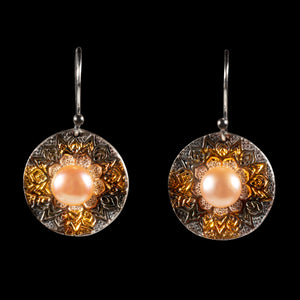 These earrings have a flower pattern with a pink pearl in the center. This is pure 999 silver, burnished with 24K Gold foil, accented with patina.
These were fun to make. The flower pattern came from a texture plate I have. I positioned the 24K gold foil which I burnished on and the patina to show off the glowing pink pearl which was attached in the center after the gold and patina were applied.  

Dimensions: Almost 1 inch in diameter

Sterling silver ear wires. These can be switched to comfortable sterling silver clip ons for an additional charge.
PLEASE NOTE, this specific pair of earrings has been purchased by a customer. However, I can create a similar pair if you would like to place a Custom order. It may look slightly different since I create every piece from scratch. For instance the gold and patina might be in a different location.