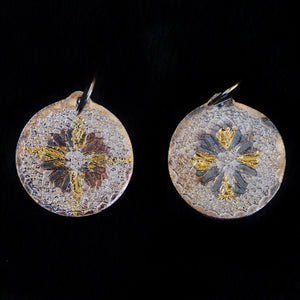 I pressed this particular texture into Precious metal silver clay. It is a very delicate texture which reminds me of a flower surrounded by a filigree frame. I cut out the circle using my stencil and after refining the edges put it in the kiln. 
After 2 hours in the kiln what came out was pure 999 silver. I burnished some of the petals with 24K Gold foil and painted the others with patina. This almost gives it an appearance of a gold cross on each earring.
These are delicate as well as showy and stylish.
Dimensions: 1 inch diameter
Sterling silver ear wires. These can be switched to comfortable sterling silver clip ons for an additional  charge.
PLEASE NOTE : These earrings have been purchased by a happy customer. However I can create a custom pair for you. They will not look exactly the same as the original since I make everything from scratch.