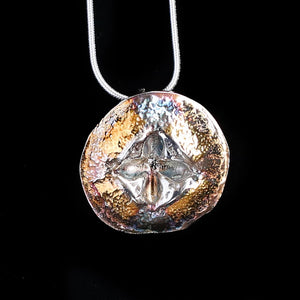 I gathered Eucalyptus seed pods with the plan of using them as templates for pendants.
The texture and appearance of each seed pod is unique and individual as in all nature. I chose several I liked. This one has 4 points like the points of a compass. I created a mold with mold making material. I pressed silver clay into the mold and let it dry. I adhered a Baile created from a coil of silver clay onto the back. After it was totally dry it was kiln fired. It was burnished with 24K Gold foil to fuse the gold to the 999 pure silver. This process is called Keum Boo. Parts of the Silver seed pod were painted with patina. The 4 point star was left silver.
It hangs on a sterling silver snake chain.
Dimensions : 1 inch diameter, 16 inch sterling silver snake chain.
THIS IS CURRENTLY AT A GALLERY. If you wish to purchase it I can find out if it is still available or make you another one.