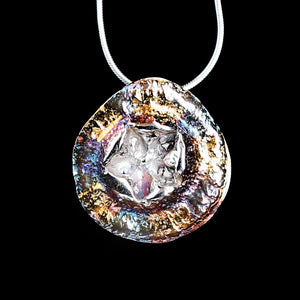 Eucalyptus trees were planted in abundance in California coming originally from Australia. They grow well and smell wonderful after a rain. The seed pods are distinctive and have a very interesting texture.
This particular seed pod has a 5 point start in the center. I made a mold out of it so I could press silver clay into the mold. Once dried the silver clay was fired in a kiln for 2 hours. What emerged was 999 Pure silver which was burnished with 24K Gold foil to fuse the gold and silver. This process is called Keum Boo. The outer rim was painted with patina and the 5 point star was left silver.
This mixed metal look is lovely and the pendant is gorgeous. It will look great on anyone who wears it.
Dimensions : 1 inch diameter. 16 inch sterling silver snake chain