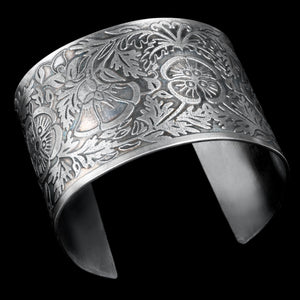 This is an etched Sterling silver cuff or bracelet. The pattern was from an Indian design book. Patina was lightly painted on for accent.
The Etching process is fun but time consuming. The pattern is selected and printed onto a special paper. The paper is burnished onto a heated strip of silver. The pattern transfers from the paper to the metal. The silver is floated pattern down in a bath of acid which eats away the exposed part of the pattern. The etching solution is agitated to get a good etch. The silver is then put in a neutralizing bath. The etched silver is taken out of the bath and the blue paper is scrubbed off with a solvent.
The piece is cut out of the metal sheet, filed, sanded, cleaned, polished, and smoothed. I then hammered the strip of etched silver onto a bracelet mandrel to achieve the shape. Since it is open ended it should fit most wrists.
I painted patina on this and rubbed off the excess to make the pattern stand out.
This piece has already sold.