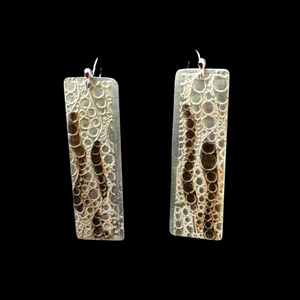 Etching is a fun but time-consuming process. I begin with sheet silver. I choose and print the pattern on special blue Press and Peel paper. Sometimes the pattern is something I have enjoyed using in the past, like this one.
The design gets burnished onto the heated metal and then the paper is peeled off. The silver sheet is then floated on an acid bath and the exposed metal gets etched with the selected pattern. After a deep enough design has been etched the silver is neutralized and the blue design is scrubbed off with a solvent.
I then cut out the design with a jeweler's saw, file it, refine it, soften all edges, and polish. 
I have etched this lovely fluid pattern before. I paint a portion of it with patina which gives it the appearance of bubbles rising to the surface of water like a string of beads.
These are elegant but casual earrings which will never go out of style.
Dimensions: 1 and 1/4 inches by almost 1/2 inch. Sterling silver ear wires. These can be replaced with comfortable sterling silver clip ons for an additional charge.
PLEASE NOTE : These earrings just sold. I can create a CUSTOM ORDER pair for you if you are interested.