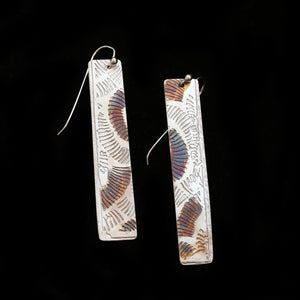 Etching is a fun but time consuming process. You start out with sheet silver. You choose your pattern, in this case from my Japanese design book. You burnish the design on to the heated metal. The silver sheet is then floated on an acid bath. The exposed metal gets etched with the pattern. The metal is then floated in a neutralizing bath. 
The earrings  were cut away from the surrounding metal using a jeweler's saw. The edges were filed and sanded to make them smooth and soft. The earrings were polished then painted with patina. I painted them slightly differently to accent the texture. I was pleased to get my favorite blue, purple and copper colors.
These long graceful earrings make you feel taller.
Dimensions : 2 and 1/4 inch long by 1/2 inch wide. Sterling silver ear wires. These can be switched to comfortable sterling silver clip ons for an additional charge.