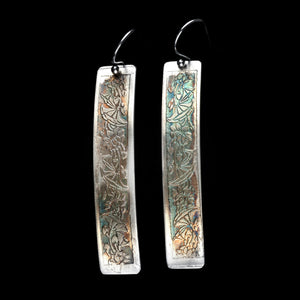 This is a pattern from my Indian design book. I reduced the size on paper so that I could make earrings from it. The regular pattern is large enough to make a cuff which I have done as well.
Etching is a fun but time consuming process. You start out with sheet silver. You choose your pattern, in this case from my Indian design book, and print it on special paper. You burnish the design on to the heated metal and then peel off the paper. The silver sheet is then floated on an acid bath. The exposed metal gets etched with the selected pattern. The metal is then neutralized in a bath. The blue paper is scrubbed off with solvent.
I cut the etched strips using a jeweler's saw. I filed, sanded and smoothed the sides. I curved the strips to make the pattern prominent. After polishing the earrings I painted them with patina to give them the attractive purple, blue and green tints.
These lovely earrings have an antique appearance and will look stylish at any time with any outfit.
Dimensions: 2 and 1/4 inches X almost 1/2 inch. Sterling silver ear wires. The ear wires can be switched to comfortable sterling silver clip ons for an additional charge.
PLEASE NOTE: This pair just sold. I can make a Custom pair on request. They will look similar but not identical since I make every item from scratch.