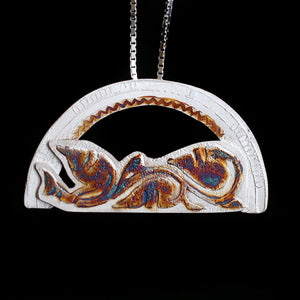 These were two projects which came together. I had an arch etched from another project. The Leaves were etched in a recent project.
Etching is a fun but time consuming process. You start out with sheet silver. You choose your pattern, in this case from my Indian design book, and print it on special paper. You burnish the design on to the heated metal and then peel off the paper. The silver sheet is then floated on an acid bath. The exposed metal gets etched with the selected pattern. After you have achieved a deep enough etch the silver is neutralized and the blue design is scrubbed off with a solvent.
I cut the the arch as well as the leaves out using a jeweler's saw. Both pieces were filed, sandpapered and polished to make them shiny and smooth. I soldered the leaves onto the arch. I soldered a baile for the chain onto the back of the arch. The piece was painted with patina to give it blue, green and gold colors for accent.
I was very happy with the way it turned out. It has an ancient, regal appearance.
Dimensions : Length a little over 2 inches. Height a little over 1 inch. Sterling silver box chain 18 inches.
PLEASE NOTE: This pendant just sold.