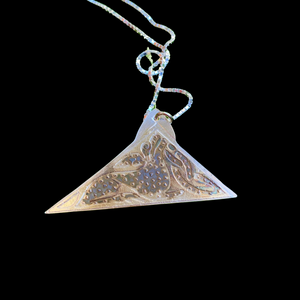 Etching is a fun but time-consuming process. I begin with sheet Sterling silver. I copy the pattern onto special blue Press and Peel paper. The design gets burnished onto the heated metal and then the paper is peeled off. The sterling silver sheet is then floated on an acid bath and the exposed metal gets etched with the selected pattern. After a deep enough design has been etched, the silver is neutralized and the blue design is scrubbed off with a solvent.
I then cut out the design with a jeweler's saw, file it, refine it, soften all edges, and polish. 
The design in this case is of a dog from my " Early Medieval Designs from Britain" book.
I really like how this etching came out. The etch is deep and does look like an antique particularly after painting it with Patina.
A must have for dog lovers.
Dimensions: 1 and 1/4 inches by almost 2 inches. Sterling silver box chain, 18 inches.