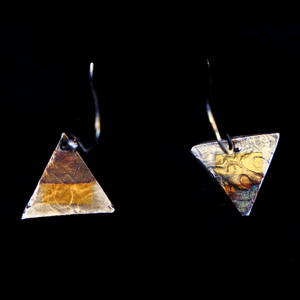 These are petite earrings for those who like wearing understated but stylish earrings. The apex of the triangle is on the top for one earring and below for the other to add to the whimsical nature.
The texture is enhanced by the pure 999 silver surface being burnished with 24K Gold foil and accented with patina to give color and accent.
These can be worn as casual wear or for special occasions. The mixed metal look with the patina accent always brings attention to the wearer.
Dimensions: 1/2 inch X a little over 1/2 inch
Sterling silver ear wires. These can be switched to comfortable sterling silver clip ons for an additional charge.