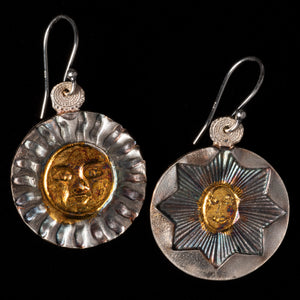 I made my first pair of Sun and Star Earrings some years ago. They proved so popular that I have made several pairs over time. They are whimsical, unusual and bring a smile to your face. And as they are handcrafted, every pair is unique. 
The pure silver earrings are burnished with 24K gold foil. I use patina to accent the outer portion.
These earrings are cheerful and unique. They can be worn every day or for special occasions.
Dimensions: Length 1 and 1/4 inch of just the Sun and Star medallions. Diameter 1 inch.
With the long silver ear wires they are 2 and 1/2 inches long from the top of the wire to the bottom of the earrings.
Long Pure Silver ear wires. These can be switched to comfortable sterling silver clip ons for an additional charge.
PLEASE NOTE: These Earrings have sold but I can create a Custom Pair for you if you wish to purchase them.