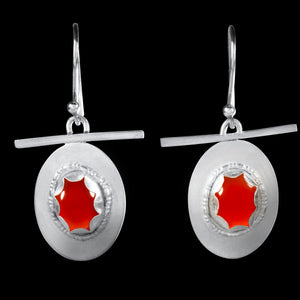 These earrings are made of Sterling silver. A carnelian stone is set in a scalloped fine silver bezel on a sterling silver back plate.
I used a jeweler's saw to pierce a hole in the back plate. Carnelian is translucent so you can see light through the stone when the earring is held up the light or dangling in the ear. It has the lovely orange of a sunset.
Dimensions 1 and 1/2 inch length X almost 1 inch at the widest part.

Sterling silver ear wires. These can be switched to comfortable sterling silver clip ons for an additional charge.
PLEASE NOTE these earrings have been purchased by a happy customer. However, I can create a similar pair if you would like to place a Custom order. They will look slightly different since I will be starting from scratch to create a new pair.