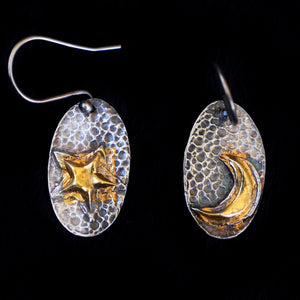 These are petite earrings which though symmetrical have different patterns on them. I first created the texture using a texture plate and cut out the oval shape using my stencil.
Using my star stamp and moon stamp I pressed them into the Precious metal silver clay. Cutting them out without stretching the clay was the tricky part. Once they were dry they were smoothed with flexible sanding pads. They were then adhered to the dry background plate with syringe clay.
After firing the star and sun were burnished with 24K Gold foil and patina was painted on for accent. 
These are fun because they are unique, one of a kind and playful. They are petite and can be worn daily or for a special occasion.
Dimensions:1 inch X 1/2 inch
Sterling silver ear wires. These can be switched to comfortable sterling silver clip ons for an additional charge.
This particular pair of earrings have been purchased by a happy customer. However I can make a custom pair for you.