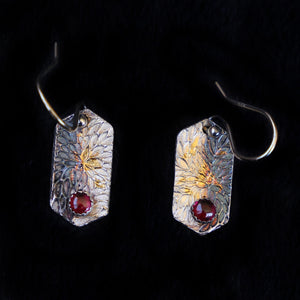 These earrings were made with a Chrysanthemum petal texture background. The design was pressed into silver clay and a hexagon shape was cut out. I positioned a pure silver bezel at the lower end of the piece. After drying it went into the kiln.
The pure 999 silver earrings which came out of the kiln were burnished with 24K Gold foil and accented with colorful patina. I tapped a lab ruby cabochon into the bezel opening and secured the stone by burnishing the sides and top of the bezel.
These are lovely bright, happy colorful earrings with gold, silver, patina shades and ruby stone. They would frame any face beautifully.
Dimensions:3/4 inch X 1/2 inch
Sterling silver ear wires. These can be switched to comfortable sterling silver clip-ons if the buyer prefers. 
These earrings have been purchased, but I can re-create a similar pattern and style. Please do contact me if you are interested.