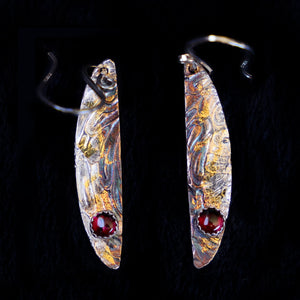 The texture on these earrings was pressed into Precious metal silver clay. The pattern is floral but since the earrings are so slender, it almost looks like multiple waves. I positioned a pure silver bezel on the lower end of the earrings. I used syringe silver clay to adhere the bezels to the earrings, when they had been dried and smoothed with a flexible sanding pad.
After firing in the kiln I burnished a strip of 24K gold foil onto the pure silver earrings. Patina was painted on for accent. The lab ruby cabochons, were pressed into the bezel cup and secured by burnishing the sides and upper part of the bezel over the stone.
These earrings are petite, playful and delicate.
Dimensions: I and 3/8 inch X 3/8 inch
Sterling silver ear wires. These can be switched to comfortable sterling silver clip ons for an additional charge.
PLEASE NOTE: These earrings have been purchased. I can create a similar pair as a CUSTOM ORDER.