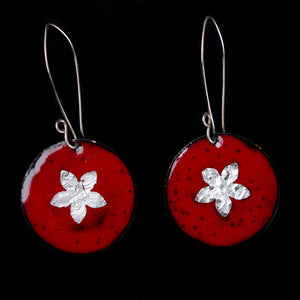 These are enameled copper earrings with opaque red enamel and a pure silver foil flower on one side. There is counter enamel on the other side. The counter enamel keeps the weight of enamel on both surfaces equalized and prevents warping.
The earrings are stunning with the deep red and the shiny pure silver foil flower in the center.
Dimensions: 1 and 1/4 inch diameter
Sterling silver ear wires. These can be switched to comfortable sterling silver clip ons for an additional charge.