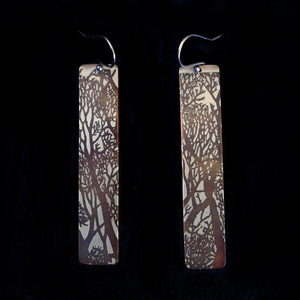 I learned this technique in a class on etching using Bi Metal with jeweler Carol Webb. We used pure 999 silver which had been fused to copper and passed through a rolling mill to get the required thickness.
Etching is a fun but time consuming process. The design was burnished on to the heated copper. The copper side was then floated on an acid bath. The exposed metal got etched with the tree branch pattern and the pure silver shone through.
The acid was then neutralized and the earrings were sanded to give smooth edges. They were then dipped in patina to give the copper the beautiful dark woody look.
These earrings were hammered on a form to give them a smooth curve.
They are lovely, one of kind, and remind me of a forest in the evening.
Dimensions: 2 and 1/2 inches X 1/2 inches
Sterling silver ear wires. These can be replaced with comfortable sterling silver clip-ons for an additional charge.