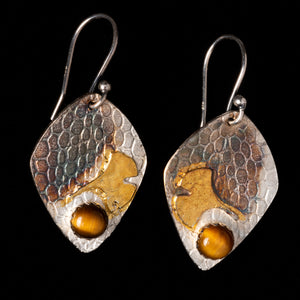 These earrings were made using pure silver metal clay. I cut the shape of the earrings then textured them with a pebble pattern. I set a bezel at the lower end and draped a Ginkgo leaf pattern around the bezel. 
After firing in the kiln for 2 hours what emerged was pure 999 silver earrings which I burnished with 24k gold foil just on top of the Ginkgo leaf. The Tiger Eye was set into the bezel cup. I accented the silver with patina to get green and blue shimmering colors.
I love the shimmer of Tiger eye as well as Ginkgo leaves. It just occurred to me that the two would go well together. I have an affection for their shape, texture, and changing color. The leaves progress from tiny bright green shoots in spring to large green leaves, then yellow leaves before they fall in autumn and winter.
These earrings are simple, graceful, and arresting.
Dimensions 1 inch x 3/4 inch
Sterling silver ear wires. These can be switched to comfortable sterling silver clip ons for an additional charge.
PLEASE NOTE: This particular pair was just purchased by a customer. I can create a custom pair on request. Since I make every piece from scratch they would look slightly different.