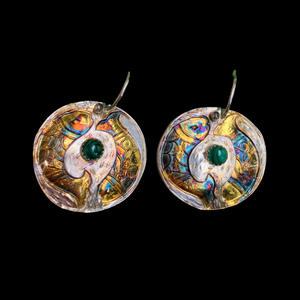 I love the design of these earrings. It was a pendant but I decided to make two and make earrings. I placed a malachite stone in the center because it reminded me of a Koi pond.
I fashion the shape with silver metal clay. When dry I refine it and position the bezel cup in the center. It stays in the kiln for 2 hours. After it comes out I burnish portions of it with 24K Gold foil and accent it with patina. The malachite cabochon gets tapped in and then ear wires are added.
I handcraft all my jewelry and though I may use the same pattern each time the positioning of gold, patina, and even a stone may be different.
These earrings make me feel calm and I think of sunny days looking into a Koi pond with Koi dancing in the water.
Dimensions are 1 inch in diameter
A great enhancement to any outfit.
Sterling silver ear wires. These can be switched to comfortable sterling silver clip ons for an additional charge.