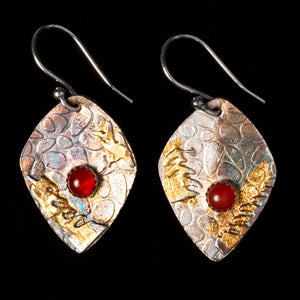 I started out with precious metal silver clay, created a textured background and cut out my shape. I placed a bezel cup on each earring surface so I could add a carnelian cabochon. I created a texture on the clay and fired the earrings in a kiln for 2 hours. 
I burnished the overlay designs with 24K gold foil, painted on patina for accent and pressed in the carnelian cabochons, then closed the bezels.
Dimensions 1 1/8 inch X 7/8 inch
These earrings are bright and cheerful and enhance any attire.
Sterling silver ear wires. These can be switched to comfortable sterling silver clip-ons for an additional charge.
PLEASE NOTE: These will be on display at the Pajaro Valley Art Gallery from August 25th till October 3rd. They will be available for purchase there.
These earrings sold at the Art Gallery
However I can create a similar pair of earrings as a custom order.